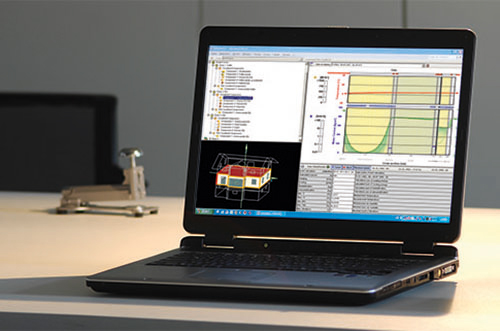 In this day of energy efficiency and sustainability, prescriptive energy codes are constantly being written by various state and local jurisdictions that only address the thermal properties of building components. We are quickly learning, however, that the hygric performance of our structures' components also needs to be given serious consideration. Elevated surface moisture levels in occupied spaces can lead to health risks caused by mold in the interstitial cavities of our buildings.
Today's buildings are more complicated and challenging than ever before. Gone are the days of wall and roof systems that consist of framed spaces with simple cladding materials. We can no longer rest easy without considering how our "tight" structures will actually perform with each new decade, and we can no longer be cavalier about consumption of materials incorporated into our homes and work spaces.
To ensure that multi-layer building enclosures are designed correctly, we need the assistance of a tool that enables us to project precisely how the building is going to perform in the long-term. We need to know that our structure is going to endure the climatic dangers that are present in our environment, instead of feeling satisfied when our designs meet only the simplistic, present-day energy codes that we must comply with. Such a tool exists, and it's known as WUFI® (Wärme und Feuchte Instationär). This PC-based program was developed by IBP of Germany and validated using data derived from real outdoor and laboratory tests. WUFI® is a tool for developing and optimizing building materials and components by enabling the user to develop credible calculations on the transient hygrothermal behavior of multi-layer building components exposed to natural climate conditions based on the newest findings regarding vapor diffusion and liquid transport in building materials.
WUFI® can be used for assessing:
The drying time of masonry with trapper construction moisture.
The danger of interstitial condensation.
The influence of driving rain on exterior building components.
The effect of repair and retrofit measures.
The hygrothermal performance of roof and wall assemblies under anticipated use or in different climate zones.
Moisture in our structures can have devastating effects such as: reduction of thermal insulation, increased mold growth, structural stresses caused by shrinking and swelling, and frost damage, rotting or corrosion. No area in North America is immune from the ever-present culprit known as moisture; no "Shangri La" exists in which one need never be concerned about the moisture problems that persist in our living spaces.
To that end, you are invited to visit the WUFI® website at www.wufi.com. We believe that you will quickly see how powerful this computer simulation is by downloading a free version for your use. It will quickly show you how to make sense out of a very complicated world by helping you better understand dew points, drying of construction moisture, summer condensation due to reverse diffusion, solar radiation, driving rain loads and the effect of moisture on energy consumption.
Charles L. Lander, MSSM, CSI, CDT has over 35 years' of experience in the design and construction communities and is an architectural consultant for NorthClad Rainscreen Solutions. He is primarily involved in the administration and presentation of AIA-registered provider programs on the sensibility of rainscreen cladding systems to key architectural and consulting firms throughout the Pacific Northwest. He is a member of the Construction Specifications Institute and is a founding member of the British Columbia Building Envelope Council and the Seattle Building Enclosure Council. He can be reached at clander@clander.com.