NorthClad® Gutter Size Requirement Calculator
This calculator uses current data to calculate the required size of gutter as well as number and size of downspouts based on your input.
We recommend using this calculator as a basic tool to begin determining the requirements for your drainage system, however, all information should be verified by hand prior to ordering or installing your gutter system.
To use this calculator, simply enter the information in the form on the left, and your data will be output on the right side.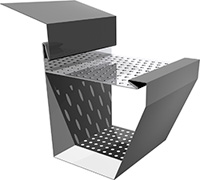 Roof Drainage FAQ and Troubleshooting
The gutter and downspout size required is highly dependent on the amount of gutter and the spacing of the downspouts. Adding additional downspouts will require less gutter and downspout volume resulting in smaller gutters/downspouts. Please lower the maximum spacing between downspouts to see this effect.
Also, please adjust the gutter width relation to height as some width/height ratios will not be compatible with standard gutter sizes and the calculator will recommend a custom gutter.
The data contained in the City/State dropdown is expected rainfall for a 10yr or 100yr storm, as such, it is perfectly acceptable to select the city nearest you and utilize that information for your calculation.