Poor gutters are typically one of the first things to create a negative impression of your commercial facility or school property. Drips at gutter laps tend to streak walls or leave puddles, ice slicks, and stains on your sidewalks. Faded paint on external brackets and sheet metal cries out for attention.
Two gutter capacity options available (Gs 600 & larger Gs 700)
Required Coil Sizes are 16″w and 20.875″w for small and large gutters respectively.
Continuous, roll formed gutters
Shipping lengths up to 40′ standard, longer lengths available
22 or 24 gage galvanized steel, continuously connected front and back
20yr Kynar paint available in many standard colors
Continuous, perforated stainless steel clip screen
Installed with no lap joints
Packages available include: end caps, drops, screen cleat assemblies, and optional wind clips
NorthClad only uses material supplied by AEP and Firestone in our gutter machines.  Please contact us with any questions.
NorthClad® Gs Series Gutter Accessories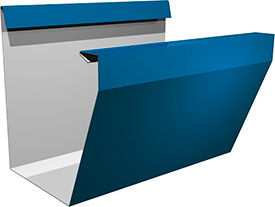 Continuous Gutter Sections
Our gutter sections are roll-formed from Kynar® coated galvanized steel coil, allowing for continuous sections with no lap joints. Gutter sections can be shipped in up to 40′-0″ lengths as a standard option or longer lengths with additional shipping charges. Corner sections are also available.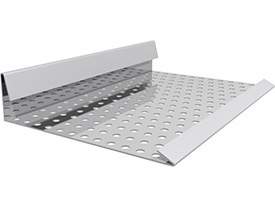 Continuous Stainless Clip Screens
Our perforated 18 gage stainless steel clip system provides superior support for your gutter system, while keeping the gutter free from large debris that can clog downspouts. Cleanouts are also available for maximum gutter protection. The perforated stainless clip system is available in 10′-0″ lengths.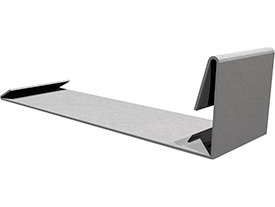 Galvanized Steel Brackets
We offer this clip system as an alternative to the perforated stainless cleat. These 2″ wide, bare galvanized steel clips may be spaced at 24″ o.c. or less to provide excellent support for your budget gutter system. For maximum support, we recommend our continuous stainless steel clip.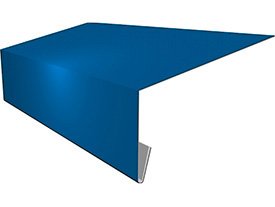 Our eave metal is available in 22 and 24 gage galvanized steel, Kynar® coated to match the gutter system. Available in 10′-0″ sections, this hanger is fabricated to interlock with the gutter assembly. The only fasteners required are those that fasten the hanger to the roof substrate.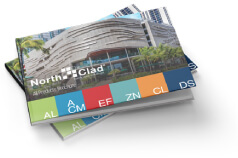 SEE IT IN PRINT
Check out our new 2020 brochure featuring all our products.

QUESTIONS?
Need more information about this product? Give us a call at (425) 740-3702 or go to our contact page.