Product Description & Intended Application
NorthClad® AL Series panels are designed to be used as external wall cladding supported on shims to form a "rainscreen". Although the panels will significantly discourage the entry of surface water, some water may enter the ventilated, drained cavity (through the joints between the panels), and must be repelled by the weather resistant barrier (WRB, specified elsewhere).
The function of the cladding is to serve as protection for the waterproofing and as a durable, visually appealing surface. When designing a rainscreen, it is imperative that the designer and contractor are clear about where the drainage plane and actual waterproofing are located. The drainage plane is not at the face of the cladding, but at the face of the sheathing.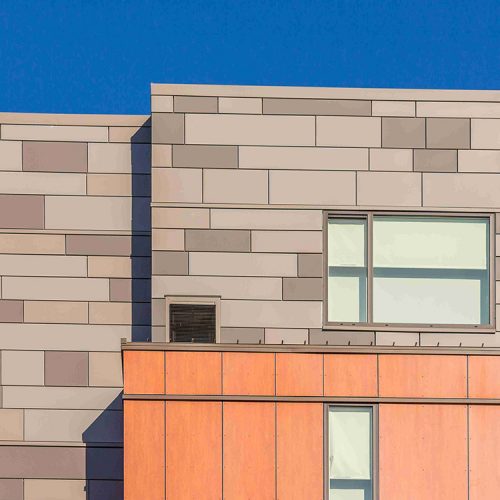 NorthClad® AL Series Installation Notes:
All flashing for openings, sealants, and the air barrier must be continuous across the various penetrations for doors, windows, and vents, etc. Integrity of the WRB design can be exhibited by water testing of the walls when covered with a weather resistant barrier (WRB) prior to the application of the rainscreen panels and their support system. The system cannot rely on the face panel (NorthClad® AL Panel), for watertight integrity. 

Drained, back ventilated rainscreen design has been proven successful throughout the world and may be appropriate for your project. Following are some requirements and information for your consideration.
External Wall

Cladding: When fixed in accordance with the manufacturer's recommendations, and engineered attachments, the panels will withstand typical wind loads and transfer these loads to the supporting structure. The panels are not designed to contribute any structural stability to the building. The free flow of air to the cavity behind the panels requires the air barrier to be fully responsible for moderating air movement across the drainage plane. The net effect is that the wall needs to be designed structurally complete and air-tight aside from the application of the NorthClad® AL Panel and its support system.
Fire Resistance:

Reference IBC 1406 for NorthClad® AL aluminum panel data. Design consideration should be given to any combustible material behind the cladding, which may be exposed during a fire. Determining the combustibility of any materials adjoining the ventilated cavity (e.g. insulation, sheathing panels, and breather membranes etc.) is the responsibility of the project designer.
Cavity barriers may be required under relevant building regulations and technical standards. Additional ventilation may be required above and below these cavity barriers.
The NorthClad® AL rainscreen panel system does not contribute to the fire resistance of any external wall or load bearing structure.
NorthClad® recommends that the designer design the building waterproofing utilizing the full technical support of the weather resistant barrier (WRB) manufacturer. Please see Appendix A for recommended WRB products.
Note that special care needs to be taken at all the discontinuities in the membrane (penetrations, flashing, etc). Once the WRB is complete and intact (including the transitions to windows, doors, foundation, and various penetrations), the installation of the rainscreen cladding can begin.